How our attempt to revive the Blockbuster brand reached an impasse—and why it's our greatest opportunity yet.
First, let's rewind…
On Christmas Day 2021, Tasafila put out a rallying cry to buy the Blockbuster brand from Dish Network and turn it into the world's most creator-friendly, digitally-native content ecosystem.
The support was swift and enthusiastic, and a global community formed practically overnight. Between Twitter and Discord, more than 20,000 people joined forces. Multiple news outlets reported on the endeavor. The call for better distribution, marketing, and monetization for creators of all kinds was loud and clear.
While some projects might have capitalized on the attention by hurriedly dropping an NFT collection and launching a crowdfund, we decided that before we could ever raise a penny we'd have to do everything in our power to deliver on the promise to buy Blockbuster.
Within days, a small group of people made their way to the center of the commotion to try to make that happen. We were an eclectic bunch—a marketing professional, a producer, the owners of a web3 streaming service, a college student, a day trader, a serial entrepreneur, and more. To say it was inspiring that so many people from different walks of life saw the same vision, and were able to act in unison so quickly, would be a vast understatement. Dish took note and seemed eager to hear what we had in mind. In short order, the two parties kicked off conversations.
Fast forward several months: after numerous meetings and thousands of cumulative hours of work, Dish decided they did not want the Blockbuster brand to be controlled by a DAO. They wanted to be "in the driver's seat." They did not "share our vision."
Go figure.
It wasn't the result we wanted, to be sure. But our vision—a content ecosystem that gives creators more control over their art and their businesses—remains perfectly intact, and our ambition to see it through is greater than ever. Now, free from any corporate constraints, we are hitting reset and committing to a transparent, collaborative effort that stays true to the ethos of the web's next wave of innovation. In the spirit of that effort, we want to share with the community exactly what happened in our negotiations with Dish and what we plan to build from here.
In other words, this isn't the end. It's only the beginning.
So what happened with Dish?
As best we can recall, we had thirteen meetings with Dish executives between January 12th, 2022 and May 31st, 2022. This included a few surprise encounters at Crypto Mondays, ETHDenver, and NFT LA. The majority of the meetings were between our team and a high level executive with direct access to the Chairman Charlie Ergen and President and CEO Erik Carlson. Many of the meetings included a rotating cast of characters, including an independent entrepreneur who was allegedly associated with a separate effort to license or otherwise utilize the Blockbuster brand (the details of which remain a mystery to us despite countless attempts to obtain more information).
Unfortunately, the idea of wholly acquiring the Blockbuster brand was shut down immediately. Dish had spent $320 million on the brand in 2011 and they believed it was still worth more than any community like ours would be able to raise. Our position, to the contrary, was that its value had depreciated considerably since its bankruptcy—it was all but dead—and it lacked relevancy for younger generations.
Either way, we remained optimistic and open to compromise. We were the "little guys" in the equation after all. The conversation turned toward a partnership of sorts. As an interim step, the brand would be licensed to an entity co-owned by Dish and a handful of our community's core team members. The entity, likely a limited-liability corporation (LLC), would raise money to build a content ecosystem minimum viable product (MVP). The LLC would then be progressively decentralized: all its value would be placed into a token, the vast majority of which would end up in the community's hands, with governance turned over to the community such that the original, interim LLC members no longer had any control over its operation.
Our contacts at Dish asked us to form a proposal around the structure above. Here is a copy of the document we sent to them on April 5th, 2022.
In order to protect the community from ever becoming Dish-owned, we insisted on maintaining majority ownership in the interim entity. In our proposal, we suggested a 65% initial ownership stake for our side, which would leave room for outside funding while enabling us to hang onto just over 50% of the venture and gradually shift control to the community.
With the help of various legal consultants and our brilliant attorneys at Groundswell, we are proud to have constructed a proposal that could pass muster legally while simultaneously doing right by our community. In the spirit of the organizations that have built in public before us, we hope that openly sharing our document will both spark a conversation and help other web3 communities form productive partnerships with the corporate world. We encourage open discussion and welcome any questions regarding its contents.
"The Driver's Seat"
On April 15th, 2022, we had a follow up meeting with the Dish team to discuss our proposal. They pressed hard against our community having majority ownership of the interim LLC, suggesting that all we brought to the table was, in their own words, "sweat equity."
We saw it otherwise. We were helping define a new socioeconomic paradigm centered around transparency, inclusion, and equal opportunities in new models of ownership. We brought to the table a global community that exemplified this frontier, full of talent, artistry, and experience. We already had a foundation for working tech, thanks to our friends at Beem, which would have allowed us to build out an ecosystem in a timeframe few other entities could pull off. Moreover, we had already conducted a wildly successful community brand sprint that indicated in clear terms what type of experience our community was yearning for.
We stood our ground and insisted that we, as a web3 community, would never agree to a corporation taking majority ownership of our path forward. By the end of the meeting, the Dish team seemed to understand where we were coming from. They asked for a product presentation, and quickly. It was an enormous challenge to try to hone the vision for an industry-changing product within a few weeks. But we were assured it was the best way to persuade the powers that be.
Arguably the most controversial decision we made was to create the product presentation in private. Under pressure from Dish for a rapid turnaround, we decided we had no feasible way to conduct a large-scale community discussion about product direction, never mind implement democratic decision making, and have a rock-solid presentation ready within a few weeks. We also had major concerns that if Dish were seriously considering our deal, they would not appreciate us open-sourcing our tech, a theme that would have undoubtedly been commonplace had we continued working together.
We made our presentation to Dish on May 10th, 2022. They seemed receptive to everything we were pitching and we felt positive coming out of the meeting, as expressed in our community announcements.
But a week went by and we heard nothing. Then another week. And another.
Finally, on May 31st, 2022, we had our final meeting with the Dish team and to be honest, we were a bit blindsided by the news. In their exact words, they wanted to be "in the driver's seat" and "did not want to license the brand to a DAO."
And that, as they say, was that. All we know for sure is we took the leaps of faith we felt were necessary as the situation unfolded, and we utilized every last available resource to try to make this deal happen for our community. Throughout all of it, the community remained patient, understanding, and hopeful, and for that we are eternally grateful.
Where do we go from here?
We can let this result destroy us. Or, instead, we can turn this into a moment that unites us and propels us forward, galvanized as the preeminent digitally-native creative community. Nothing about our core mission—giving content creators the distribution, marketing, monetization, and community-building tools they need to produce on their own terms—needs to change. The Blockbuster proprietors have no idea what they're about to miss out on. But hey, it's not like it's a brand known for missing the boat on major social and technological shifts, right? 😉
From here on, we will tackle our mission with a product-first approach. No more waiting. Only planning and building. And should we succeed, together we will have written one of the greatest underdog stories in media history.
With that in mind, we're thrilled to announce our new face and name: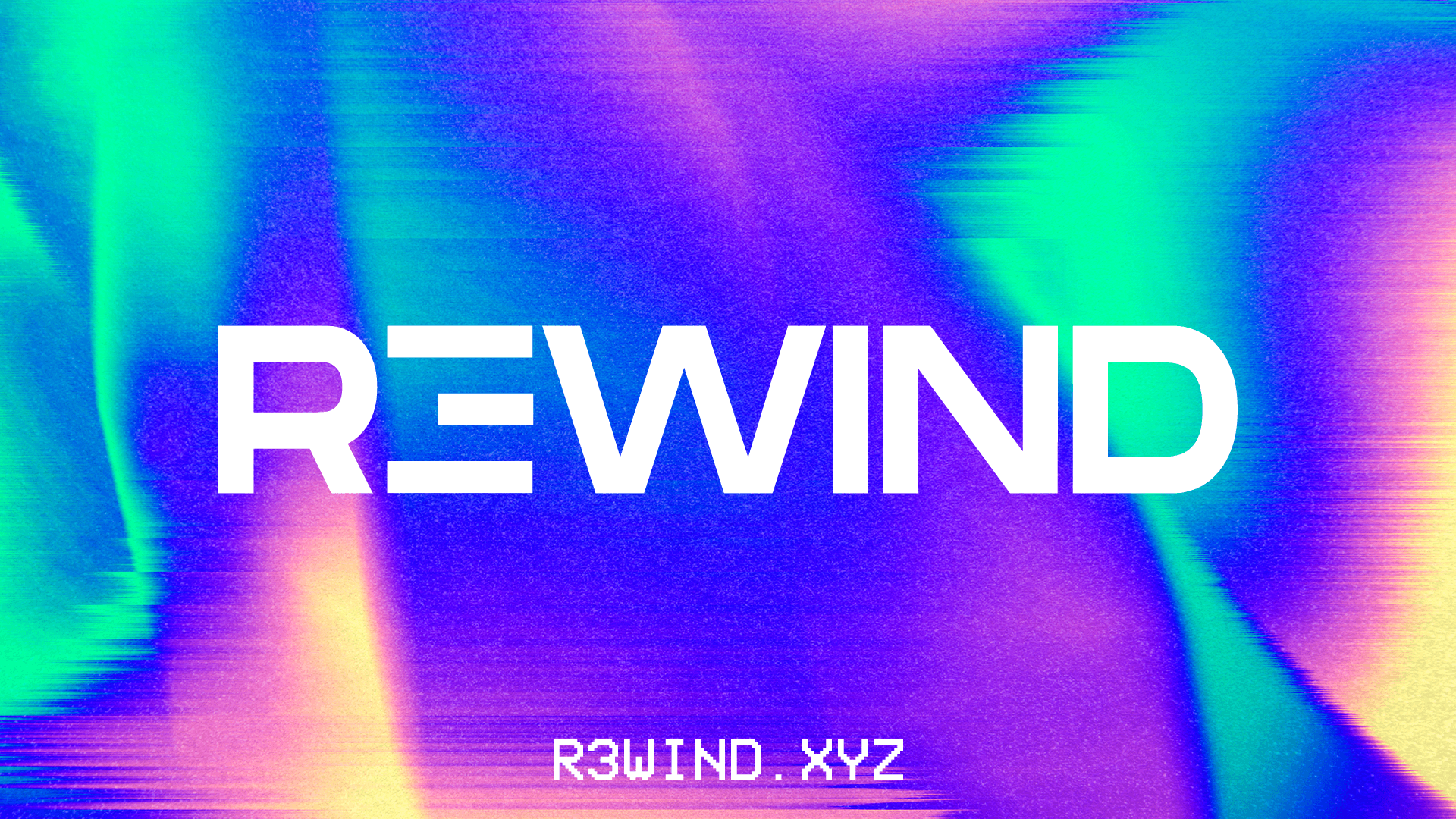 R3WIND
R3WIND is a video platform for the next generation of creators, those who demand control over their art and their businesses. Creators of all kinds can upload their videos or pull them in from other sites, sell everything from digital collectibles to physical merchandise, and incentivize their communities to join in spreading the word with our "share-to-earn" link system. Think Vimeo meets Shopify with best-in-class organic marketing. While R3WIND will be game changing for content creators and independent filmmakers, almost anyone with a story to tell can benefit from our ecosystem:
Digitally-native art and media projects can post their collections, while community members can generate unique links and earn a portion of revenue streams that they help create.

E-commerce brands can post their branded content directly on shoppable landing pages and utilize share-to-earn, which bests existing affiliate networks by reducing the risk of fraud and paying rewards instantaneously, all thanks to blockchain technology.

Grassroots organizations can activate their community members to spread their messages by directly rewarding those who bring in donations.
At R3WIND, creators always own their IP and their data. The project will be stewarded by a passionate group of entrepreneurs, artists, and storytellers who bring a wealth of expertise to our endeavor. We will follow the same path toward responsible, progressive decentralization as previously planned so that control and ownership of our ecosystem goes into the hands of the people who use it.
As our first step toward decentralization, we will form a DAO by dropping a genesis NFT to our most active current community members, champions of the Film3 movement, and anyone who registers on our new landing page where you can also learn more about our plans. As soon as the genesis NFT is in the hands of the community, we will launch a variety of initiatives to hone the branding, the product, and onboard a flurry of incredible creators.
A quick word about the current market: it's no secret we are in a cool-off period. But, with all sincerity, we see this as a good thing. It gives us breathing room to get things right, and like previous market cycles in the burgeoning realm of web3, when the froth settles and the excess shakes out the future gets made.
At the end of the day, we are so incredibly grateful for everyone who has jumped down the rabbit hole with us and lent their time and talents to the cause thus far. We hope our unity around a more creative and equitable world will continue to serve as a cornerstone of the greater web3 community.
To any and all newcomers, join us! Jump into our Discord, follow us on Twitter, and head over to our site to register for our Genesis Drop. Or just drop us a line—we'd love to learn about you, your passions, your talents, and hear anything else you'd like to tell us. Come help us build the definitive home for future generations of storytellers, a home that celebrates and rewards, unequivocally, those who create all the value.
With gratitude,
Team R3WIND